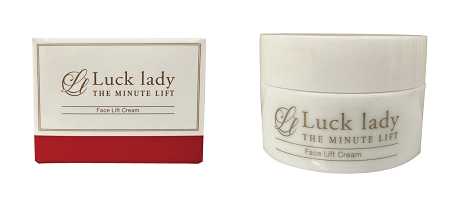 Luck Lady Lift Up Cream
50g ¥13,000(tax excluded)
By balancing the good effects of active ingredients, you can feel a lifting that has not previously been possible with a massage that will memorize the shape of your skin.
It is a highly effective face lift cream that dramatically enhances the anti-aging effect by blending conventional Luck Lady with progelin.
Characteristics

By the synergistic effect with the conventional ingredient algrelin, the lifting effect begins at the moment of use, and by continuing its use, it can be expected to make spots and wrinkles decrease. (In case of continuous use for 1 month)

* Low irritation prescription
Sensitive skin users can apply it without worries, the composition that may irritate your skin disappears in minutes.
* Paraben Free
* Non-alcoholic
* No fragrance-free coloring
* Free Mineral oil
* Free old designation indicator

By blending platinum Nano-colloid component (super-platinum of higher purity), the active acid of the skin continues to remove element, so you can expect true whitening/moisturizing/antioxidant action.
> MORE
How to Apply

After washing the face, take a pearl grain sized amount of cream at the tip of the hand, scrape lightly with both hands and stretch it, then spread on the jaws, cheeks, nose and forehead, please spread carefully while rubbing across the whole face.

Next, without putting much effort, massage lightly and rhythmically move from bottom to top by following with the illustration arrow procedure.
Please apply further from the center of the face in the direction of the ears, push the cheeks sideways and push it upwards and massage.

Finally, gently massage from top to bottom and from one spot to another.
Active Main ingredients

- Platinum (antioxidant effect)
- Fulvic acid (whitening)
- Irouseki Stone [Sedimentary rocks] (cell stimulating ingredient)
- Water soluble proteoglycan (moisture retention EGF effect)
- Argireline

* Acetyl hexapeptide (anti-aging)
Other ingredients,
11 types of moisture retaining ingredients, 4 types of skin whitening ingredients