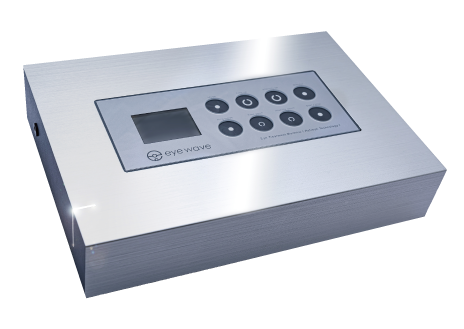 eye wave
- Patented
It is the latest treatment machine which was developed focusing on the excellent beauty effect which the undeveloped [eye].
Using a unique composite wave (low frequency band), it is possible to effectively approach problems across the whole face.

* Please contact us for details on information and handling.
Characteristics

Eye wave conducts current that combines low frequencies and interference waves, which affects the ciliary body and surrounding muscles.
- Low-frequency therapy equipment ... It acts on the thick nerve of the pain receptors and suppresses the pain signal before going to the brain.
- Interference wave treatment instrument ... It requires powerful action to stretch muscles and to promote blood flow by pumping action to remove pain (fatigue) substances.
> MORE
How to use (Surgery/Salon example)

1. Counseling (First time)
2. Electrode pad attachment (4 places)
3. Treatment Implemented 30 minutes (complex wave)
4. Treatment end
5. After Counseling
* The required time is about 1 hour.
Effect/Effectiveness

- What is a complex wave
It is electricity that appears when generating waves that interfere.
It is a new wave (electricity) which has the advantages of both low frequency and as an interference wave described in the above ("Features") and feels in the eyeball very comfortable.